Example 7
#NOStigma
Forth Valley College Media Students answer indusrty call to action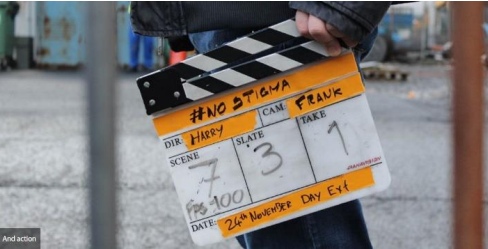 Wednesday 28 November 2018:
Media students from Forth Valley College have been commissioned to make a film to help raise awareness of mental illness and reduce accidents at the Grangemouth refinery.

The Grangemouth Contractors Safety Alliance (GCSA) - a committee of Senior Contractor Managers and HSE professionals who are committed to reducing injuries, accidents and environmental impacts, and ensuring both companies' and legislative compliance within and beyond the Grangemouth complex – have entrusted a team of FVC students with directing, producing, scripting, casting, filming and editing the short film.

Titled '#NoStigma' the film aims to highlight the need for openness in discussing and addressing mental health issues in the workplace. It will feature professional actors Duncan Rennie and Lauren McCusker, along with cast from both GCSA and FVC and has been shot over two days in November 2018. It is understood the film will be completed and released soon.

Professional TV Director/Producer Craig Collinson also agreed to mentor and advise the student team involved throughout the creative filming process.

The film centres around Adam, a construction worker. Adam is experiencing challenges with his mental health however he appears unwilling to seek or accept help. The film will follow Adam through his day as he wrestles with the feelings he is experiencing while trying to pretend everything is alright. While his colleagues are aware that something is amiss, they initially seem unwilling to help. The film uses imagery to convey its messages with little dialogue.

Creative Industries Lecturer Fi Milligan Rennie, said:
"The students involved have worked very hard to deliver an industry standard work for the client. It has been a steep learning curve for some, but every student has risen to the challenge, responding to their roles in a consistently professional manner. I am certain the client will be delighted with the finished work."

Craig Collinson, who is mentoring the students, said:
"This is really innovative opportunity for students to go beyond the academic environment and get a taste of the world they're aspiring to make a living in. Producing creative content; be it cinematic or corporate is about hard deadlines, budget challenges and realising the client's vision. FVC have set up a deep dive 'get real' experience that offers students a sense of this. I don't think anyone's making the effort to do this at this level and it has been an absolute pleasure to support this initiative."

Steven Casci, Health and Safety Manager – Luddon PetroChemical Division, said:
"Luddon Construction form part of the GCSA Core Group of companies and we are acutely aware of the ongoing challenge with addressing mental health issues. Mental health and behavioural problems are reported to be the primary drivers of disability worldwide and a major contributing factor of suicide within the construction industry. Male site workers in construction are statistically three times more likely to commit suicide than the average UK male; as such we must address this! We are extremely proud to be part of this unique and innovative project and hope this is just the start of an ongoing relationship with Forth Valley College. We are taking huge steps towards reducing and hopefully eventually eliminating the stigma associated with mental health."
GCSA - the largest contractor forum in the UK - are the cornerstone of not only a successful Health and Safety and Environment performance at the Grangemouth complex, but also for developing and delivering ongoing innovation within Industry and ideally beyond. They pride themselves on doing this by providing high quality training, developing and delivering strategy, communicating HSE incidents on the complex and also through ongoing cooperation in comprehensive workplace evaluations.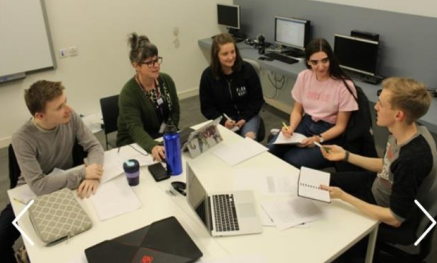 Media students answer industry call to action | Forth Valley College
Grangemouth Contractors Safety Alliance

On Friday 22 February 2019 the Chris Mitchell Foundation had the honour of being invited along to
the premier screening of #NoStigma – a mental health awareness short film commissioned by the
Grangemouth Contractors Safety Alliance (GCSA) and developed and produced in association
with Forth Valley College.

The event was hosted by GCSA at the Ineos Exhibition Centre to promote and raise mental health
awareness throughout the Grangemouth complex.

"We would encourage everyone to watch this excellent piece of work – we are certain it will help save
lives. This was a difficult piece for us to watch as a family as it mirrored very closely the final weeks of
Chris' life.

The Grangemouth Complex is a male dominated working environment, not dissimilar to that of
Scottish football, and the stigma of men feeling too ashamed to reach out and ask for help is one that
GCSA want to change.

We would like to thank GCSA for inviting us along to share Chris' story and for their extremely
generous donation of £1,000 to support the work of the foundation.

We are certain this will be the start of a strong working partnership going forward and we are excited
to see how we can work together."

A message from the Chris Mitchell Foundation

In honour of Chris, the Chris Mitchell Foundation was established to raise awareness around mental
health and wellbeing for players, ex -players and staff working in the Scottish professional football
industry.

Chris developed mental health issues, particularly depression and anxiety. Sadly, all the support from
his family and friends could not deter him from ending his own life on the 7th May 2016, he was only
27. Great work is already being done within this industry. Professional football clubs are also
recognising the importance of the mental health and wellbeing of their players and staff, and some
have already publicly pledged to work with and support a variety of mental health charities. The
Chris Mitchell Foundation aims to build on this, by working collaboratively with these organisations
and others, to promote mental health and wellbeing on a national scale. Our three-year strategic plan
provides the focus and underpins the groundwork for the inaugural year of the charity and we hope
you will join us on our journey to help safeguard the mental health and wellbeing of Scotland's
professional footballers and staff.

Grangemouth Contractors Safety Alliance (GCSA) Premier Screening of #NoStigma - Chris Mitchell Foundation
(cmfoundation.org.uk).