HRAW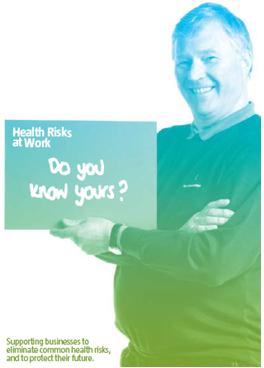 Health Risks at Work - do you know yours?
The Health Risks at Work initiative provides simple, concise information to help small businesses manage five key health at work risk areas:
Breathing
Skin
Muscles, bones and joints
Hearing and touch
Wellbeing
As part of the initiative focusing on 'risks to your skin', an update of the "It's in your hands" project tackling skin related issues was undertaken.
The most recent "It's In Your Hands" brochure is now available to download from the website: www.itsinyourhands.org.
Campaign Materials
Help for an employer is available in the form of Rapid reference Cards (RRC) which address the five key health at work risk areas. The cards highlight areas companies should be considering, such as hazardous substances, signs and symptoms and where to get further help
To promote the campaign a free 'Introduction to Health Risks at Work' DVD has been developed which is suitable for use in:

training sessions
company meetings
other similar settings in the community
This DVD is available in five languages (English, Polish, Chinese, Urdu and Punjabi) to ensure that key health risks messages get across to as many workers as possible
Download the Rapid Reference Cards
Download the DVD
A download of the DVD and other campaign materials are available from Health Risks At Work
If you would like a hard copy of the 'Introduction to Health Risks at Work' DVD please contact SGUK
Working with local Safety Groups
Safety Groups UK is working with the network of local safety groups around the UK to reach out to SMEs and promote the initiative
Safety Groups are being asked to appoint a champion who will take the lead on behalf of their group
To promote the initiative among the group
To raise awareness among the membership through presentations and information sharing at regular meetings and e-mail
To identify SMEs among their membership and give them help to understand the contents and aims of the imitative
To seek support among their members who are from large companies to promote the initiatives among their subcontractors
Background to the initiative
Following a successful campaign in Scotland the 'Health Risks at Work' initiative was launched in May 2012 for England, Wales & N Ireland by SGUK to raise awareness of workplace occupational health issues and changing behaviour among small firms
The initiative began with a discussion by the Scottish Chamber of Safety (SCoS), the coordinating body for safety groups throughout Scotland, about what could be done to raise awareness of health issues among small firms. As a result, a working group was formed consisting of representatives from HSE, RoSPA, SCoS and the Scottish Centre for Healthy Working Lives, and from this was born the Health Risks at Work – Do you know yours? (HRAW) initiative
The Scottish Centre for Healthy Working Lives (SCHWL) has been running HRAW in Scotland since it's launch in 2009 and SGUK, working with its partners, sponsors and supporters and with the agreement of SCHWL, has taken the initiative to SMEs in England, Wales and Northern Ireland
Health Risks at Work is based on strong evidence that SMEs struggle with health and safety because they:

find goal-based health and safety legislation and risk assessment difficult to apply
believe – or are led to believe by unhelpful sources – that risk assessment is a complex and time-consuming process, and
sometimes therefore pay for expensive advice that is over the top or that they simply don't need
We also know that, in general, SMEs are not very aware of the occupational health risks faced by their employees (as opposed to safety risks), and that SMEs prefer advice tailored to their workplace rather than complex guidance documents
The initiative aims to provide simple, concise information to help small businesses manage common health risks and provides tools to help them do this
The benefits for employers are the improved health of their workforce, both in the medium and long-term, which is increasingly important with an ageing workforce, and the improved morale that comes from a workforce that feels valued and protected by their employer