Health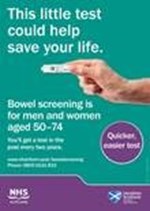 Bowel cancer is a major public health problem in Scotland. The Scottish Bowel Screening Programme invites men and women aged between 50 and 74 to take part in screening every two years. The programme aims to find cancer at an early stage when treatment is likely to be more effective. Uptake is lowest in men, in the most deprived areas and is lowest in 50-54 year olds. Bowel screening is the only screening programme where the test is completed at home.
A nationally produced poster to promote bowel screening in Scotland is available to promote this simple test and its lifesaving benefit.
You can access the online version here – http://www.healthscotland.scot/media/1797/a3-bowel-screening-poster.pdf 
Copies of the poster were originally distributed in November 2017.  We are now encouraging settings wider than the NHS to use and promote the bowel screening poster. If you think you could help promote this message and would like copies of the poster for your place of work, community venue or local initiative please contact gemma.mills@nhs.net.