Dundee and Angus College wins Lord Cullen Trophy
Dundee and Angus College wins prestigious UK wide award -Lord Cullen Trophy
28 January 2019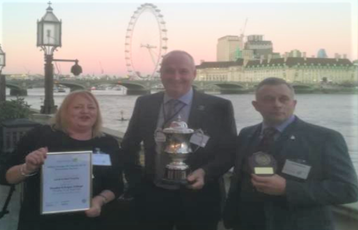 Learning about health and safety can at times be perceived as a bit dull. The LOcHER project (Learning
Occupational Health by Experiencing Risks) is a UK wide approach to teaching students about health and safety
in an engaging and interactive way. This approach allows students to identify key health and safety risks in
their own subject area, learn about them, showcase what they have created and then take that experience
into the world of work.
By experiencing risks in a controlled way, the LOcHER approach helps embed important health and safety
knowledge into long-term memory, influencing longer term positive attitudes and behaviours while
simultaneously developing a range of complementary essential skills.
Recently a group of Princes Trust students focused on investigating the dangers of asbestos, guided by Andy
Cathro, the Health and Safety Officer at the college. They researched the topic thoroughly, visiting a local
company which removes asbestos and a laboratory which tests for asbestos, learning about this substance and
its associated health risks. The students also visited a charity which supports those suffering from asbestos
related diseases reinforcing its impact on peoples' lives. Most touching of all for the students was the fact that
the gentleman they interviewed sadly died in March 2018 from an asbestos related disease. The final output of
their LOcHER project was creating a film on the dangers of asbestos, raising awareness of the dangers of
asbestos with others.
The annual Safety Groups UK Awards ceremony recognises the innovative work being done to raise standards
of health and safety and the Princes Trust students from Dundee and Angus College won the Lord Cullen
Trophy for Innovation at the House of Lords on 28 January 2019 for their film on the dangers of asbestos.
Dundee and Angus College were the first college in Scotland to use the LOcHER approach. They are delighted
that this film, and subsequent projects have been recognised and continue using this method of creative
health and safety learning and teaching, recognising its value in contributing to the 'Helping GB Work Well'
strategy and in preparing learners effectively for the world of work.

Listen to Andy Cathro of D&A college to appreciate the value of LOcHER and the award
https://youtu.be/ZmImSs62Lys

Health and Safety education gets a creative makeover - College Development Network (cdn.ac.uk)