Archive
Click here to read Birmingham Health, Safety and Environment Association June Newsletter.
*** SGUK Awards 2018 - Innovation Awards - entries now open ***
Isle of Wight Health and Safety Group Donate Over £4,500 to the Air Ambulance
The Group, which recently disbanded having protected workers' rights for 44 years, decided that all remaining funds should be donated to HIOWWA.  Roger Kevern commented "The majority of our members felt that it made sense to donate our remaining funds to HIOWAA because the Charity's Critical Care Teams respond to serious accidents at work and their intervention can make the difference between life and death."
This generous donation was gratefully acknowledged by the Charity in a letter to the Group - HIOWAA letter
You may be interested in taking part in HSE's informal consultation on revised musculoskeletal disease guidance. 
Please see further information below, including the email address for participation.
HSE has a number of assessment tools to help identify MSD risks from different activities involving lifting & carrying, repetitive tasks or pushing & pulling. One of these, the MAC tool (for lifting & carrying) has been revised to fill gaps identified from practical experience and research; make technical changes to some risk factors, scores and illustrations to reflect new information; to make the tool clearer and easier to follow; and to align with complementary publications (eg L23 - Guide to the Manual Handling Operations Regulations). An interactive version of the MAC tool has been developed to maximising its use by reaching a wider audience in a more accessible form. The interactive version channels the user through the assessment, reducing the potential for errors, and making it more straightforward and easy to use. The prototype interactive version was revealed at the MSD Summit. An informal consultation on both versions starts next week for 6 weeks ending in July. HSE will aim to publish both the hard copy and interactive versions later this year. If interested in participating in the consultation, please contact msdpp@hse.gov.uk; or any of the MSD team. 
 May 2018:
BSiF Registered Safety Supplier Scheme - sign up, support and help spread the message.
South and West Wales Safety Group are celebrating 75 years of safety excellence and are having a Give 75 Campaign to celebrate this milestone in their history.  Full details are available on their website including a Pledge form to download.  Please do what you can to support this campaign to help improve safety, health and wellbeing in local communities and workplaces.
April 2018:
50 years safer
Over 40 people gathered at the Hereford Town Hall on the evening of 25th April to mark 50 years since the establishment of the Herefordshire Health and Safety Group.  At the event four organisations which have been members of the Group since its foundation were presented with special certificates.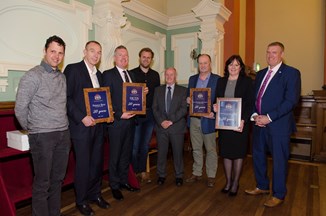 (left to right)
David Spencer and Paul Eaton (Painter Brothers), Stuart Griffiths (HGTA), Jack Nicholls (Guest Speaker), Norman Stevenson (Safety Groups UK), Tim Harrison (Haigh Engineering), Debra Baldwin (Hereford & Ludlow College), Alan Jones (HGTA).
Photo taken by Gavin Allen of Glideology
-----------------------------------
For information, click here to view the SGUK Data Protection Policy 2017
-----------------------------------
March 2018:
The LOcHER Steering Group and pupils who have undertaken LOcHER projects visited the Scottish Parliament on 7th March.
Click here for images from the very interesting evening kindly hosted by Clare Adamson MSP.
There is sad news from the Cardiff Safety Group. Chris Johns, their long serving secretary, has passed away following a long illness.
His funeral will be held at 1.15pm Wednesday 21st March in Coychurch Crematorium, Bridgend CF35 6AB.
SGUK extend their sincere condolences to his family at this saddest of times.
February 2018
Don't forget - Safety Groups who are members of SGUK receive complimentary membership of RoSPA.
Groups receive the full membership package including twelve copies per year of RoSPA's Occupational Safety & Health Journal as well as 'Safety Express'. They are also entitled to discounts on RoSPA products and services and can make use of RoSPA's Infocentre. They are also entitled to use the RoSPA affiliation logo free of charge
Safety Groups may use the RoSPA Affiliated logo on the following:
Letterheads
Website
Certificates (subject to RoSPA Approval)
Annual Report
Should you wish to use the logo for anything other than the above, you will need to contact the RoSPA Marketing Department on 0121 248 2128.
Group members are invited to sign up to RoSPA's E-bulletins: www.ebulletins.rospa.com/osh.
These free monthly e-bulletins include the latest news and views. As affiliated members of RoSPA, members of Safety Groups are being given access to further RoSPA E-Bulletins on a wide variety of occupational health and safety topics.
Please contact us if you have any questions about your Group's RoSPA membership
ALSO, IF YOUR CONTACT DETAILS HAVE CHANGED RECENTLY, PLEASE LET US KNOW SO THAT THESE CAN BE UPDATED.
 ******
From 1st February 2018 Swansea and West Wales Occupational Safety Group will have a new working name:
SOUTH AND WEST WALES SAFETY GROUP
******
 ******
Many congratulations to all the winners at the Alan Butler and Maurice Adamson Awards Ceremony at the House of Lords on Monday 29th January.  Take a look at the Awards section for some photographs from the day.
Click here to read the Welcome given by Norman Stevenson, Chair of SGUK
 ******
January 2018
Last few places remaining for Alan Butler Awards Ceremony and Luncheon at House of Lords on Monday 29th January.
Email contact@safetygroupsuk.org.uk for further information and a booking form.
A Happy & Safe New Year 2018
December 2017
Season's Greetings from all at Safety Groups UK