🚀Kick Start your Safety Group! 
🌟Are you keen to encourage more members and elevate your group? We have something just for you!

📅 Join Karen McDonnell (RoSPA), Ernie Spence (NISG) & Stuart Bailey (LOHSG) on 27th Sept. at 10:30 am for the first in a series of enlightening webinars that promise knowledge, insights from real-life scenarios, and an opportunity to discuss ideas with like-minded friends.

💼Organised by SGUK & RoSPA, this series of 4 webinars is aimed at bringing the Safety Group Network back together and building a stronger network.

📌Register online:
https://tinyurl.com/347v8ud4

Your participation will be a testament to our collective spirit and dedication to 100 years of keeping workplaces safe.
Committed to NetZero? Learn about challenges and solutions facing Scottish Businesses
February 2022
With over 90% of world GDP now covered by net zero commitments, the VIBES Scottish Environment Business Awards examines the challenges and opportunities for the Scottish business community at a free webinar at 10.30 am on 2nd March 2022. At this event you get insight and advice from VIBES winners and partner organisations. You will also find out about the 2022 Awards and how to get the recognition your business deserves for your projects and achievements.
The VIBES Scottish Environment Business Awards reward and recognise organisations that have demonstrated significant business benefits from good environmental practice. Register for the webinar now: https://attendee.gotowebinar.com/register/4373723535558333197?source=SEPA. For more information, visit www.vibes.org.uk or send an email to vibes@sepa.org.uk 

The Lord McKenzie of Luton
December 2021
It is with great sadness that I write this note about someone who had become a staunch supporter of all things related to occupational health and safety, particularly the Safety Groups Movement.
Sadly our friend and colleague, The Lord McKenzie of Luton passed away recently. Bill, as he preferred to be called, on behalf of The Scottish Chamber of Safety launched what was to become the Health Risks at Work 'do you know yours' campaign at an open meeting of SCOS in Stirling in 2007.
My first encounter with Bill was when he was Under Secretary of State for Work and Pensions at his office in London when his responsibilities included those of 'Safety Minister'. A delegation of SGUK's Management Committee representatives was invited along to his office for a 20 minute meeting, and I was privileged to be part of that delegation. At the meeting, Lord McKenzie listened intently, and near the close of the meeting offered full support to safety groups from his office. Being a cheeky wee opportunistic Scotsman, I tested that offer and invited him to Scotland to officially launch the SCOS Health Initiative, and after explaining briefly what it was about, he agreed, and did so at the Stirling Highland Hotel. I further tested him at that event and invited him along to the 70th anniversary event of a local Scottish Group, and he accepted without question. Unfortunately, on the eve of that celebration after working late at Westminster, as he travelled home he stopped at a Fried Chicken take away on route home and ended up with food poisoning so was unable to fly the next day to Glasgow for the event.
The man was so genuine that he invited me to his office in London again for a coffee and a chat the next time I was in London. To cut a long story short, I was actually down the following week at an IIRSM event in the House of Lords and because the Safety Group West Scotland had some personalised gifts for him and Lady McKenzie, to have been presented at the anniversary celebrations that they were unable to attend, I took the opportunity to deliver them personally. On notifying reception of the meeting, I was invited up to Bill's office, expecting another 20 minute slot as before, but I was greeted by such warmth that we ended up chatting for almost 2 hours about how the anniversary celebrations went, how he got into trouble from his wife about the fried chicken and her so looking forward to coming up to Glasgow and disappointed that she couldn't. From that day on, Bill became not only a networking colleague, but a firm friend as well.
From me, Safety Groups UK Board, Scottish Chamber of Safety, all our partners, occupational safety groups everywhere and our various networks, our sincere condolences to Lady McKenzie and all of the McKenzie family & close friends. Bill's passing is such a sad loss for all who knew and worked with him, May he Rest in Peace, he will be remembered fondly as a true gentleman and supporter. The above is just one example of my personal fond memories, I, like most of us have many more – what a man Bill, you will be missed.
Norman Stevenson
Chairman Safety Groups UK
Safety Groups UK exhibits at the H&S Event – 7th to 9th September
September 2021
After 18 months of working from home and meeting people over Zoom and Teams, it was refreshing to be back out there in the thick of it, meeting with members, potential members, sponsors, and suppliers to SGUK members. Complete with the new look stands and support from SGUK member BHSEA, the Birmingham Health, Safety and Environment Association we spent a successful three days promoting the merits of SGUK to the health and safety great and good. We were amongst our many supporters JSP, EcoOnline, BSIF, HSE, IOSH, NEBOSH, and BOHS, and of course a big thanks to David Bishop from Health and Safety Events for the space. It was great to meet so many friendly faces and we look forward to following up on our many new contacts.

Sarah Kenny – Construction Industry Publications Ltd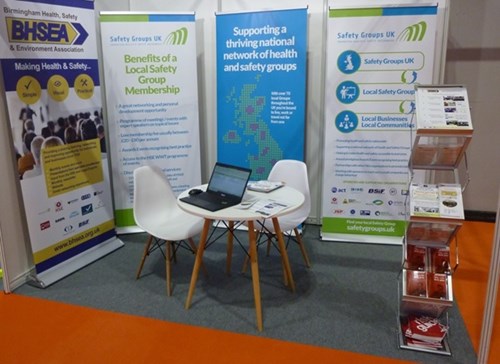 You can read the RoSPA blog Coronavirus (COVID-19) Guidance for Employers here
December 2020
Norman Stevenson - Chair, SGUK provides a post AGM update
June 2020
South and West Wales Safety Group were deeply saddened to hear of the recent passing away of Bernard Mallows MBE.  Phill Jones, Chairman of the Group, pays tribute to their well respected Vice President.
April 2020
BSIF PPE guidance and checklist. 
Are you sure that your Personal Protective Equipment (PPE) is legal and its supporting documentation is genuine and relates directly to the performance of the equipment?
Please be aware of this guidance and checklist prepared by BSIF.
It is hoped that Local Groups will share information produced locally with other Local Groups over the coming months when there will be no meetings/events taking place due to COVID-19 restrictions.
Information/factsheets, newsletters and details of webinars will be posted here to keep Local Groups in touch with what colleagues across the country are doing to engage with members during these unprecedented times.
2nd April 2020 - Click here to read a statement from Norman Stevenson, Chairman of Safety Groups UK
BOHS expresses apprehension about the reporting of WHO recent findings on COVID-19 airborne transmission.
HSE Update: First Aid cover and qualifications during Coronavirus (COVID-19)
The Chartered Institute of Ergonomics and Human Factors CIEHF as the authoritative body for Human Factors in the UK,  have produced a  guide in response to the need for rapid production of ventilators by manufacturers that may not have any experience of healthcare or medical devices.
https://bit.ly/HFandVentilators
The CIEHF has brought together an expert panel pooling together usability data and research and design protocols we can provide to manufacturers to speed up the design and testing phases whilst maintaining the integrity of patient safety and clinical usability in the end product.
March 2020
The campaign has a simple message:
Prevent accidents, Protect your family, Help the NHS. We want to keep everyone injury free throughout the pandemic and social distancing measures, to ensure the country is easing pressure on our vital frontline health workers.
But, as more accidents happen at home than anywhere else (with 6,000 accidental deaths per year) and with more people spending more time at home now than ever before, we've got a lot of work to do.
There is a new information hub at www.rospa.com/AccidentFree, where everyone who is affected by social distancing measures – whatever their age and circumstances – can find information that is relevant to them.
BOHS' statement on respiratory protective equipment for the protection of NHS staff
30 March 2020
The British Occupational Hygiene Society welcomes the announcement of further advice on Protective equipment by NHS for its workers. The science in this area is rapidly evolving as we get to understand COVID-19 better and the likely effectiveness of protection. In particular, we are aware of scientific evidence that indicates current guidance on respiratory protective equipment (RPE) requires urgent review to ensure the protection of NHS staff.  Click here for full statement.
BOHS announces the appointment of new Chief Executive Officer
BOHS, the Chartered Society for Worker Health Protection, is pleased to announce the appointment of its new Chief Executive Officer, Kevin Bampton. Kevin, a Professor of Public Law, joins the Society after a career involving Higher Education Senior Management, the United Nations and International Development. He has worked extensively with Chartered and Professional Societies in the development of their professional services and qualifications. He also has a long-standing commitment to employment rights. Further details available here.
February 2020
Congratulations to everyone following the 2019 Awards ceremony on 24th February at the Royal Horseguards Hotel, London.
Please see the gallery for a selection of photographs from the day.
Lancashire Occupational Health and Safety Group is 90 years old this year.
Read more about the valuable work of the Group in this Lancashire Post article.