You can read the RoSPA blog Coronavirus (COVID-19) Guidance for Employers here
June 2020
South and West Wales Safety Group were deeply saddened to hear of the recent passing away of Bernard Mallows MBE.  Phill Jones, Chairman of the Group, pays tribute to their well respected Vice President.
April 2020
BSIF PPE guidance and checklist. 
Are you sure that your Personal Protective Equipment (PPE) is legal and its supporting documentation is genuine and relates directly to the performance of the equipment?
Please be aware of this guidance and checklist prepared by BSIF.
It is hoped that Local Groups will share information produced locally with other Local Groups over the coming months when there will be no meetings/events taking place due to COVID-19 restrictions.
Information/factsheets, newsletters and details of webinars will be posted here to keep Local Groups in touch with what colleagues across the country are doing to engage with members during these unprecedented times.
2nd April 2020 - Click here to read a statement from Norman Stevenson, Chairman of Safety Groups UK
BOHS expresses apprehension about the reporting of WHO recent findings on COVID-19 airborne transmission.
HSE Update: First Aid cover and qualifications during Coronavirus (COVID-19)
The Chartered Institute of Ergonomics and Human Factors CIEHF as the authoritative body for Human Factors in the UK,  have produced a  guide in response to the need for rapid production of ventilators by manufacturers that may not have any experience of healthcare or medical devices.
https://bit.ly/HFandVentilators
The CIEHF has brought together an expert panel pooling together usability data and research and design protocols we can provide to manufacturers to speed up the design and testing phases whilst maintaining the integrity of patient safety and clinical usability in the end product.
March 2020
The campaign has a simple message:
Prevent accidents, Protect your family, Help the NHS. We want to keep everyone injury free throughout the pandemic and social distancing measures, to ensure the country is easing pressure on our vital frontline health workers.
But, as more accidents happen at home than anywhere else (with 6,000 accidental deaths per year) and with more people spending more time at home now than ever before, we've got a lot of work to do.
There is a new information hub at www.rospa.com/AccidentFree, where everyone who is affected by social distancing measures – whatever their age and circumstances – can find information that is relevant to them.
BOHS' statement on respiratory protective equipment for the protection of NHS staff
30 March 2020
The British Occupational Hygiene Society welcomes the announcement of further advice on Protective equipment by NHS for its workers. The science in this area is rapidly evolving as we get to understand COVID-19 better and the likely effectiveness of protection. In particular, we are aware of scientific evidence that indicates current guidance on respiratory protective equipment (RPE) requires urgent review to ensure the protection of NHS staff.  Click here for full statement.
The Health & Safety Event rescheduled due to coronavirus - media announcement
BOHS announces the appointment of new Chief Executive Officer
BOHS, the Chartered Society for Worker Health Protection, is pleased to announce the appointment of its new Chief Executive Officer, Kevin Bampton. Kevin, a Professor of Public Law, joins the Society after a career involving Higher Education Senior Management, the United Nations and International Development. He has worked extensively with Chartered and Professional Societies in the development of their professional services and qualifications. He also has a long-standing commitment to employment rights. Further details available here.
February 2020
Congratulations to everyone following the 2019 Awards ceremony on 24th February at the Royal Horseguards Hotel, London.
Please see the gallery for a selection of photographs from the day.
Lancashire Occupational Health and Safety Group is 90 years old this year.
Read more about the valuable work of the Group in this Lancashire Post article.
HAPPY NEW YEAR 2020 FROM ALL AT SAFETY GROUPS UK
Hope to see you at the 2019 Awards Ceremony - to be held in The Gladstone Library, Royal Horseguards Hotel, One Whitehall Place, London SW1A 2EJ on Monday 24th February 2020
 October 2019
JOHN CONNELL AWARDS 2019
Palace of Westminster, 23rd October 2019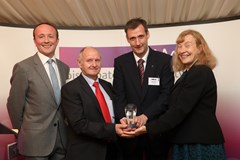 Norman Stevenson, Chair of SGUK and Chris Steel accepting the Highly Commended John Connell STEM Award
for LOcHER for its value packed accessible video about how sound waves travel through the air and matter
Click here for the press release giving full details
You can view the Highly Commended video here
 September 2019
SGUK Awards 2019 - ceremony venue announced
The awards ceremony will take place on Monday 24th February 2020 at:
The Gladstone Library, Royal Horseguards Hotel, One Whitehall Place, London SW1A 2EJ
Chairman's Update Sept 2019 - click here to read the latest update from Norman Stevenson, Chair of SGUK
Northern Ireland Safety Group Press Release - "Daddy, people die doing that"
A powerful reminder to all in the farming sector.
Click here for full details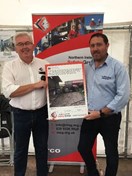 July 2019
Britain's workplace health and safety regulator has announced the appointment of its new Chief Executive.
The current Inspector General and Chief Executive of the Insolvency Service, Sarah Albon will join the organisation on 1 September.
For further details, click here
 June 2019
 SGUK Awards 2019 - Innovation and Development Through Education categories - now open for entries.
Spreading the Health and Safety Message Across the Country
SGUK now have a trackside adboard at Falkirk Football Club.
Falkirk is a community stadium, shared by FFC (professionals) and other leagues 6 days a week
@FalkirkFC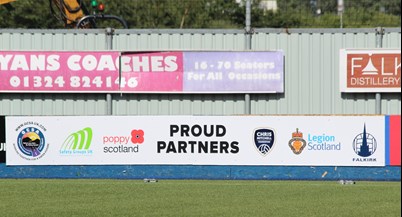 Please can you help to raise awareness about Occupational Lung Disease in construction
Last October HSE ran a construction health inspection initiative. This focussed on lung disease, particularly those caused by asbestos and dust. HSE is going to be running this initiative again between 17th June and 12th July 2019. During this period HSE inspectors will be looking to ensure those involved with construction projects are following our key messages 'know the risks', 'plan your work' and 'use the right controls'.
The communications activity will start on 10th June and continue throughout the initiative period. We would really appreciate it we were able to work with you during that period to help promote this in the following ways:
Via social media.

HSE have produced a resource pack to use as part of this and using the #WorkRight and #Dustbuster

Issuing your own press notice / article

in support of the key messages and promoting good practice

Linking in with any relevant events already planned

such as meetings or presentations
You can follow this link to the resource pack (http://campaigns.hse.gov.uk/hgbww/resources/dustbusters/?utm_source=Partners&utm_medium=Email-CL&utm_campaign=Dustbuster19 ), it will be added to and updated throughout the campaign with new photos and videos to use to promote better management of health risks created by dust.
 May 2019
The 2019 SGUK AGM will take place on Tuesday 11th June 2019 in conjunction with Milton Keynes Health & Safety Group at SCHUCO UK, Whitehall Avenue, Kingston, Milton Keynes  MK10 0AL
Click here for Agenda
Formal business will begin at 10am with introductions and a Milton Keynes group meeting with speakers, followed by the SGUK AGM and a tour of the impressive SCHUCO facility.  There will be a jointly hosted buffet lunch and a mini exhibition opportunity for SGUK supporters.
If you are interested in the supporters' mini exhibition opportunity, please contact the secretariat: contact@safetygroupsuk.org.uk 
Please see below a link to a welding fume advice document from Arco following the HSE safety alert and the change in enforcement expectations:
https://www.arco.co.uk/103/content/downloads/expert-guide/Arco-Welding-Fume-Expert-Guide.pdf
Fit2Fit http://www.fit2fit.org/ have launched 3 method specific Companions to the HSE's INDG on Face Fitting. The HSE's Guidance document INDG 479 focuses on the "what" a face fitter must do and they have relied on Fit2Fit to guide face fitters on the "how" it must be done.
The Companions were created by the Fit2Fit Technical Committee to support face fitting and ensure that the health of the wearer is protected through competent face fitting. They can be downloaded at this link:
 April 2019
Safety Groups UK Management Advisory Committee will meet at RoSPA Birmingham on Monday 29th April.
At the House of Lords awards ceremony in January, SGUK signed a Memorandum of Understanding (MOU) with IIRSM.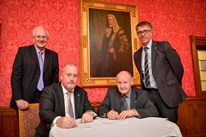 March 2019
Clare Adamson MSP  presented a motion at the Scottish Parliament congratulating the Dundee & Angus Princes Trust  team on their work on the LOcHER project and their success at the Safety Groups UK Awards. 
The Spring edition of the SGUK Newsletter, including an update on the House of Lords awards ceremony, is now available, please click here
You may believe you and your people are fully protected and compliant when you specify or buy PPE - the reality is that some CE marked PPE is failing, putting wearers at risk of serious injury and businesses and individuals at risk of loss or reputation, fines and even imprisonment.  Watch this short film for further information.
 February 2019
                  
A range of discounts have been negotiated on behalf of Safety Groups UK affiliated Groups and their members.  Please bring them to the attention of your members and prospective new members.
To find out more about these offers and to take advantage of them, please click here.
January 2019
Monday 28th January -  A great day was had by all at the SGUK 2018 Health & Safety Awards ceremony at the House of Lords.
For the Chairman's report on the day, click here