News
 May 2019
The 2019 SGUK AGM will take place on Tuesday 11th June 2019 in conjunction with Milton Keynes Health & Safety Group at SCHUCO UK, Whitehall Avenue, Kingston, Milton Keynes  MK10 0AL
Click here for Agenda
Formal business will begin at 10am with introductions and a Milton Keynes group meeting with speakers, followed by the SGUK AGM and a tour of the impressive SCHUCO facility.  There will be a jointly hosted buffet lunch and a mini exhibition opportunity for SGUK supporters.
If you are interested in the supporters' mini exhibition opportunity, please contact the secretariat: contact@safetygroupsuk.org.uk 
 April 2019
Safety Groups UK Management Advisory Committee will meet at RoSPA Birmingham on Monday 29th April.
At the House of Lords awards ceremony in January, SGUK signed a Memorandum of Understanding (MOU) with IIRSM.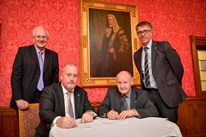 March 2019
Clare Adamson MSP  presented a motion at the Scottish Parliament congratulating the Dundee & Angus Princes Trust  team on their work on the LOcHER project and their success at the Safety Groups UK Awards. 
The Spring edition of the SGUK Newsletter, including an update on the House of Lords awards ceremony, is now available, please click here
You may believe you and your people are fully protected and compliant when you specify or buy PPE - the reality is that some CE marked PPE is failing, putting wearers at risk of serious injury and businesses and individuals at risk of loss or reputation, fines and even imprisonment.  Watch this short film for further information.
 February 2019
                  
A range of discounts have been negotiated on behalf of Safety Groups UK affiliated Groups and their members.  Please bring them to the attention of your members and prospective new members.
To find out more about these offers and to take advantage of them, please click here.
January 2019
Monday 28th January -  A great day was had by all at the SGUK 2018 Health & Safety Awards ceremony at the House of Lords.
For the Chairman's report on the day, click here