About the LOcHER approach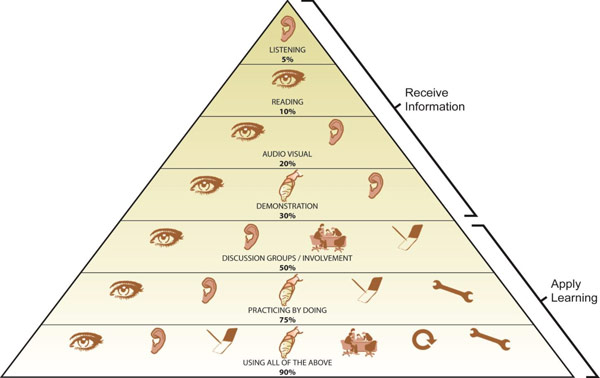 The LOcHER project:
is based on proven methods of learning and retention of new information in interesting, engaging and practical ways
it assists the learners in recalling information when they enter the world of work and helps protect their health
Experiencing a task in a safe way should help students to embed knowledge in their long-term memory and influence longer term positive attitudes and behaviours.
HSE is seeking the help of others in the health and safety system to tackle occupational diseases because everyone should 'GO HOME HEALTHY' from work.
The project originated in HSE and is designed for engaging students and apprentices.
It is about learning by experiencing practical risk control, first hand.
See also: Praise for LOcHER
Key Elements of LOcHER
It enables Students to Engage, Learn, Discover, Retain, Recall and Apply risk control approaches.
It is achieved by putting them at the heart of their occupational health risk control education using tried and tested teaching methods. They apply the project principles in their own imaginative and innovative ways, all illustrated in Case Studies.
Benefits of LOcHER for Students
The project supports colleges' goal of ensuring that students develop valuable employment and life skills, so they feel equipped to lead change in their careers and the industries into which they progress.
In addition to learning occupational health risks control, students develop a range of skills including research, leadership, time-management, problem-solving, self-directed learning, critical-thinking, communication and team-working. It also helps to create a competitive and winning mind set along the way. For their effort, contributions and learning, students receive certificates and prizes based on merit. Most importantly, students said they enjoyed the project experience.
Benefits of LOcHER for FE Colleges
For contributing towards the college 5Rs - Recruitment, Retention, Results, Recognition and Rewards
Recruitment - helping to bring learners through the doors, using the LOcHER project as part of the evidence
Retention - contributing to learner retention goals through the process
Results - noticeable contribution to the development of employment and life skills
Recognition - contributing to "Are we the best in what we do?" and employers getting to know about branded approach to educating apprentices.
Rewards - achieving praise for enriching learners' skills and engagement. Colleges help students develop valuable life and employment skills in interesting, engaging and competitive ways. Encourages subtle competition for extra achievement between departments and students
Benefits of LOcHER for Schools
It provides help with the practical integration of key elements of a subject and at the same time informs students about occupational health risks control in an inclusive way
Benefits of LOcHER for Employers
The project approach to Information, Instruction and Training (IIT) helps to engage workers in a more engaging way than the traditional 'slides and screen' method. It is achieved by putting workers' involvement and participation at the heart of their IIT
Benefits of LOcHER for H&S Professionals
This project helps to look at innovative ways to deliver IIT so that workers Engage, Learn, Discover, Retain, Recall and Apply risk control measures